A study conducted by the CPSC's National Electronic Injury Surveillance System (NEISS) in the U.S has shown that out of 13,000 reported annual accidents associated with home garage doors, the vast majority occurred due to human error.
The figures include accidents from both manual and automatic garage doors and revealed that over 7500 out of the total 13,000 accidents in the survey sample were of a nature that could have been avoided.
The NEISS study results clearly identify the importance of vigilance and awareness around garage doors to avoid becoming one of the statistics.   One of the easiest ways to eliminate or minimise injury and ensure family safety at home is to make sure you have the most up to date safety features available if you have an automatic garage door.
Although garage doors manufactured after the early 1990s in particular all have some type of safety door features, they do not necessarily include the most up to date technology. Merlin garage door openers by The Chamberlain Group include a high standard of safety features but also offer additional features as an option.
For Merlin products, extra safety measures comes in the form of safety beams connected to the bottom of the door track which have a reverse sensor that stops all motion when an infrared beam is broken.  This ensures that the door will not make contact with any person or object on its descent.
If you have ticked off safety features on your automatic garage door, then the education of children and even family pets should be next on the agenda, considering the majority of accidents are down to human error.
We would all be devastated if children or family pets were harmed while playing around a garage door, so keeping remotes out of the way and implementing rules for young children in particular is vital in trying to avoid this.
It really is essential home safety practice to familiarise your family members and anyone else who will be using your garage door with how to operate the largest moving object in your home.  There are a number of rules to keep in mind when operating your garage door, regardless of whether it is manual or automatic.
Keeping in mind that more and more doors are now of the automated variety, some critical safety tips to help inform owners of automated garage doors include:
·         Ensure that the garage door opener control button is out of the reach of small children.
Children should also never have access to door remote controls as they may be tempted to play with the door and could find themselves beneath the door when it is closing.
·         Learn all the safety features of your automated garage door.
More specifically, read the manual so that you are aware of the door's emergency release feature in case of trouble. You should also test your garage door's reversing mechanism every month by placing an object 40mm above the base of the garage door's path and setting it to close. If the door fails to reverse upon contact with the object, then call a Merlin Professional Dealer to assess it.
·         Regular inspections and servicing.
Like all technology,  equipment can start to show wear and tear over time, so make it a habit to visually inspect all its parts such as springs, cables, rollers and pulleys every month to ensure that nothing looks worn or is broken. If something doesn't look right, make sure you book a service with a Merlin Professional Dealer.
·         Update older openers with newer units that boast improved safety features.
Garage door openers made prior to 1993 do not usually include auto-reverse as a standard feature so consider replacing the opener for peace of mind. It is an inexpensive way to help keep your family safe. All Merlin openers currently available are fitted with auto-reverse as standard.
·         When in operation, keep fingers well away from garage door.
Particularly with sectional garage doors, when in operation, always keep your fingers clear and make sure children are aware of this safety measure as fingers can become jammed between the folding sectional panels of the garage door.
·         Be aware of the location of garage door opener remotes.
Many garage doors are now the access point to your home so it is important not to lose the remotes. Ideally, keep remotes somewhere out of sight to avoid the possibility of theft or home invasion.
·         Unplug your garage door when away for extended periods.
If away on holidays or away from the home for extended periods of time, unplug your garage door from its electrical outlet, or, if you have one, use a vacation lock console to render the garage door inoperable while you and your family are away.
·         Compliance to Australian Standards.
Lastly, make certain that your Garage Door Opener has the Australian and New Zealand tick of compliance. We take for granted that what can be purchased locally will always be compliant to our safety standards, but this is not always the case so buyer beware. Contact your Merlin Dealer to ensure you have the right safety in your home.
Merlin garage door openers are only installed by Merlin Professional Dealers, so you know that the mechanism is properly installed and functioning as it should be. After sales service with Merlin is second to none, both in terms of the professionally trained field technicians employed by the company and the full five year warranty that backs all of its products.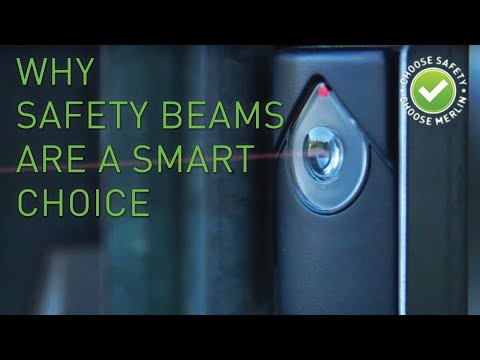 Safety beams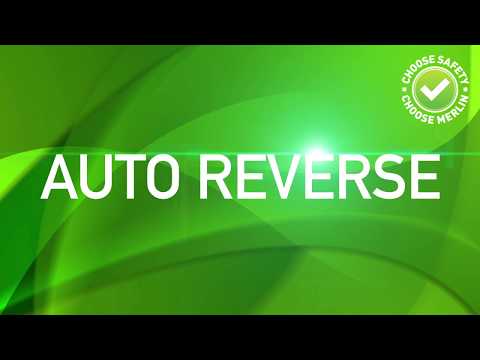 Auto-reverse safety function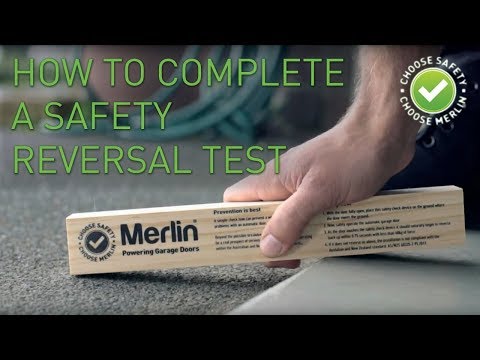 Garage door safety check